Get started with QuickPay
This is a guide for shops, that want to accept payments through QuickPay,
If you haven't already created a free QuickPay account, you can find a guide on how to do so here: Create a QuickPay account
This guide requires that you are using a shopsystem that is supported by QuickPay.
If you are coding your own integration for QuickPay you can read more on our tech-site.
---
Acquirer agreement
To accept payments through QuickPay you will need an acquirer agreement. The acquirer is the financial institution which processes card data on behalf of the merchant and, among other things, is responsible for moving the money between the cardholder and the merchant.
On quickpay.net/acquirers you will find a list of the acquirers that are supported by QuickPay, and a link that shows how to apply for an acquirer agreement.
As a QuickPay merchant a free ViaBill account is included, and this gives you the possibility of accepting payments straight away. You can read more about that here Guide for ViaBill
If you wish to test your account before you receive your acquirer agreement, you can skip to Testbetalinger
Setup acquirer agreement
On quickpay.net/acquirers you can see all acquirers, and find guides on how to setup all acquirers.
Test payments
If you wish to test your QuickPay account, feel free to use our test cards.
To be able to accept payments from our test cards you will need to enable an acquirer, simply enable any acquirer without inputting any acquirer agreement data.
Navigate to QuickPay Manager and go to Settings > Acquirers

Next select an acquirer, eg. Clearhaus, and activate them without inputting any acquirer agreement data.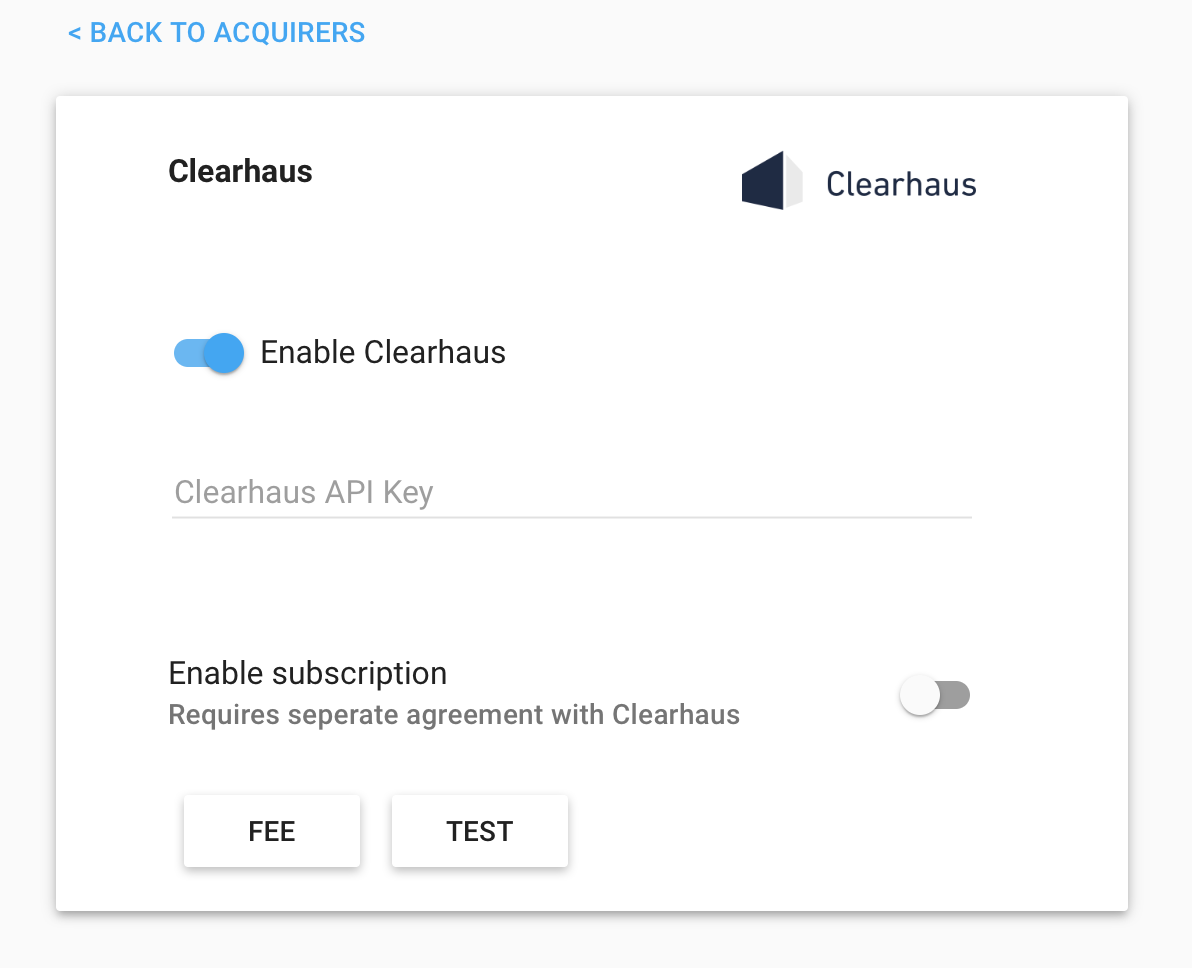 Now you can accept payments with our VISA test card
Cardnumber: 1000 0000 0000 0008
Expiration date only needs to be valid, cvd can be any 3 numbers, in example Expiration date: 12 / 21 CVD: 123
---
Setup a shop system
On quickpay.net/integrations/ you can find a list of supported shop systems.
When selecting your shop system, you can find a guide that helps you setup your shop.
---
Activate QuickPay account
Once you are ready to accept real payments you need to activate your QuickPay account.
This is done by selecting a plan and entering your credit card information in the QuickPay Manager.
If you are ready to activate your account, have a look at this guide
---
Contact QuickPay Support
Need help?