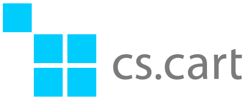 QuickPay integration with CS-Cart makes it easy to get started with accepting online payments.
CS-Cart is a shopping cart solution for building an ecommerce website of any size: from a small web store to a virtual shopping mall. A ready storefront, support for many payment and shipping options, full inventory control, unlimited products, promotional tools, and other ecommerce software features out-of-the-box.
Visit www.cs-cart.com for more information about the system.
---
Integration med QuickPay
Step by step guide
Download modulet from this page

Login to CS-Cart administrationspanel

Navigate to Add-ons -> Manage add-ons

Click on Upload & install add-on in top right corner, just under the search box

Choose Local in the dialogue box, find the file on your computer and click Open

Click on Upload & install
If you get the error message "The following directories do not have writable permissions", you will have to enter FTP-login in the box or change write permissions on the necessarry folder(s) with a FTP app or similar.
---
Disclaimer
It should be noted that the use of the module is at your own risk. We provide only limited support for the use of it - please refer to external experts if you want support for your specific shop system.
---
Contact QuickPay Support
Need help?