Prestashop is a professional open source e-commerce solution.
Prestashop excels for being both flexible and "light and fast".
We have developed a module for Prestashop which makes use of the QuickPay payment gateway very easily and smoothly.
Visit prestashop.com for more information about the system.
---
Integration with QuickPay
Step by step guide
Start by navigating to settings > merchant in the QuickPay manager and choose PrestaShop in the shop system drop down list. If prompted, click on "update permissions".

Download the module from this article

Go to your PrestaShop backend, and navigate to Modules > Add a new module

Choose the downloaded file from step 1.

Find QuickPay in module-list and click Install

Insert Merchant ID, Private Key, API User API Key. These are found in the QuickPay Manager under Settings > Integration

Choose the payment methods you wish to accept through PrestaShop

Save your settings in PrestaShop, and now you are ready to accept payments.
If you are upgrading from an older version, please update the old one first before upgrading.
Brandings in PrestaShop
If you wish to use your own branding, it needs to be chosen through the dropdown menu in the PrestaShop settings.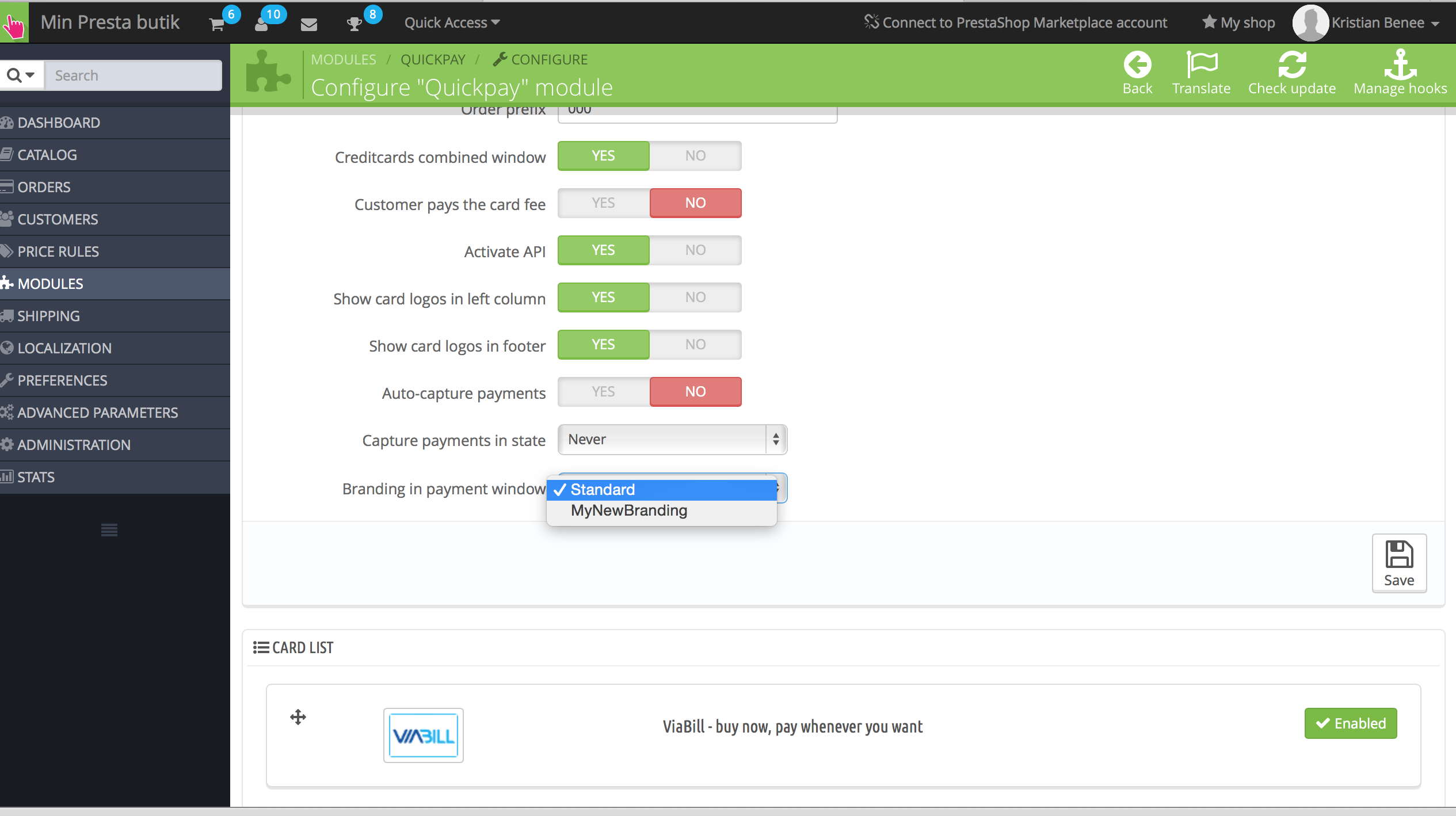 If you cannot see your branding navigate to Settings > Integration in the QuickPay manager and update the permissions for your API user.
---
Integration partner
If your support request is beyond our help, feel free to contact our integration partners. Please note that they may charge a fee for their time with support.
Shops using QuickPay and PrestaShop
Disclaimer
It should be noted that the use of the module is at your own risk. We provide only limited support for the use of it - please refer to external experts if you want support for your specific shop system.
---
Contact QuickPay Support
Need help?