Shopify is a Canadian-based shopping system. The system is one of the most user friendly and flexible e-commerce systems we have seen.
We have developed a module for Shopify exercising as QuickPay payment gateway very easily and smoothly.
Read more about Shopify at shopify.com. If you wish to try a Shopify shop you are most welcome to sign up using or partner program
---
Integration with QuickPay
There are two ways to accept payment through Shopify. 
QuickPay Payment window - The customer is redirected to our payment window, making it possible to receive payments through cards, MobilePay Online, ViaBill, PayPal, Sofort, Klarna and so on.

Payments through Shopify - The customer inputs their card data directly into Shopify. Does not support 3D-Secure
Since more and more payments are required to use 3D-Secure, it is important that you make sure if your agreement requires 3D-Secure, before setting up Shopify.
These include:
Secured by Nets which in 2017 will be a demand for all Dankort payments.
Teller SecurePay, which automatically adds 3D Secure on surden transactions through Teller.
---
QuickPays payment window
Our recommended integration sends the client to QuickPays payment window, which allows the merchant to accept creditcards, MobilePay Online, Viabill, etc.
It is also possible to use 3D Secure.
Setup
To use this guide you need to pick Shopify as your shopsystem in the QuickPay Manager under Settings > Merchant.
In Shopify settings: Add QuickPay under Settings > Payments > Alternative Payments
In the QuickPay manager go to: Settings > integration find the Agreement ID and the API KEY and insert it in Shopify.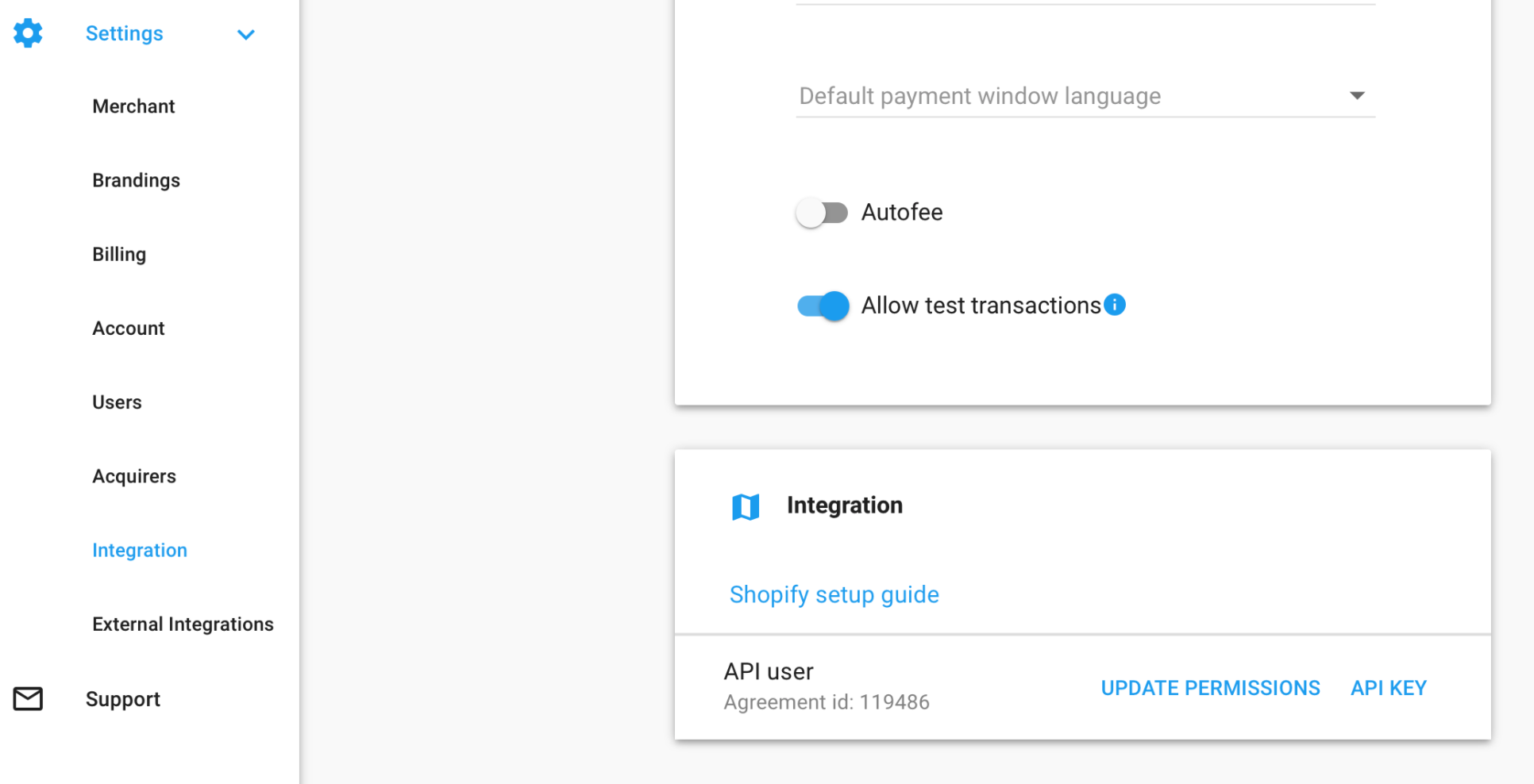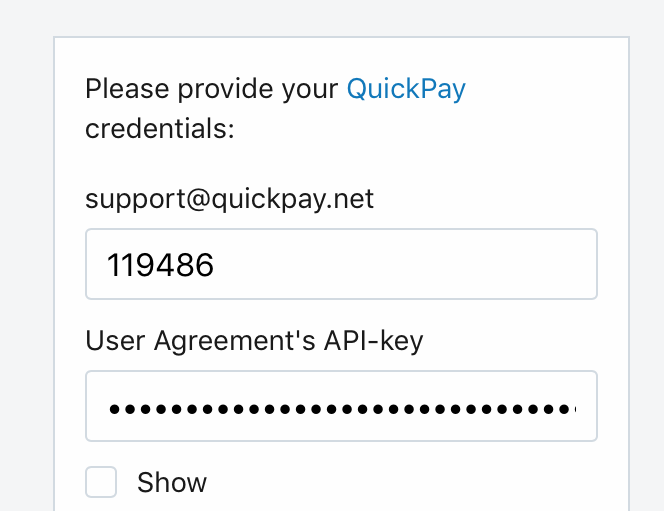 Last step is to update your user permissions for your API User.

This is done by clicking 'UPDATE PERMISSIONS' as shown on the previous screenshot.
Payment methods
If you wish to specify which payment methods are shown in the payment window, this is done in the field called Default Payment Methods which is found in the QuickPay manager under Settings > Integration
This is set using the values from learn.quickpay.net/tech-talk/appendixes/payment-methods. If you do not wish to lock your payment methods to anything specific, we recommend that you leave it empty. Doing so the payment window will show all available as per the acquirer you have activated in the QuickPay maanger.
Payments through Shopify
If you wish to accept payments through Shopify, you can do it through their standard payment-integration.
We have made a video showing you how to set it up.
NOTE as shown in the video it is the API key from the API User that needs to be used in the setup.
In Shopify go to Settings > Payments and pick QuickPay(v10 platform) as 'Credit Card Gateway' under Accept credit cards

Insert API key for API user from the QuickPay manager. This can be found under Settings > Integration.
Fee's in Shopify
If you surcharge your fee's to your customers. Please be aware that this is not shown in the Shopify admin panel or on the order confirmation. Shopify has been notified regarding this, and they are working on a solution that will display it correctly.
MobilePay Online
It is possible to accept payments through MobilePay Online via QuickPays payment window.
We have also made a direct payment method so the customer can chose MobilePay before opening the payment window.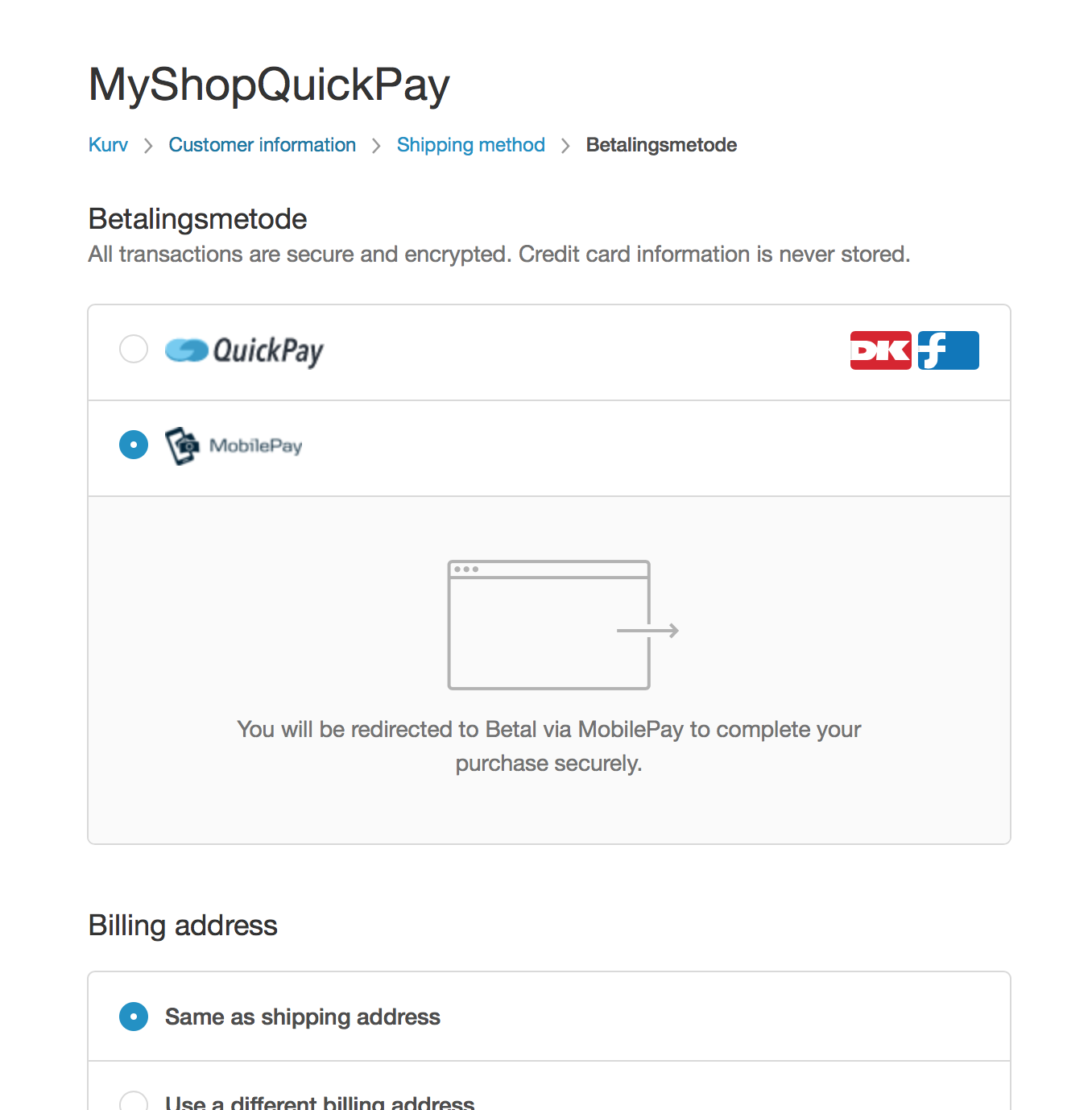 NOTE - Remember to activate MobilePay Online in the QuickPay Manager.
Log in ti https://www.shopify.com/login?redirect=authorize_gateway%2F1051599 with your Shopify info.

In Shopify - go to Settings > Payments > Alternative payments and choose "Betal via MobilePay" in the dropdown menu

In the QuickPay Manager - go to Settings > Integration and insert Agreement ID and API KEY in Shopify.
---
Recurring payments
If you wish use recurring payments through Shopify, you can use the BoldCommerce app, that is found in Shopify. You can read more about BoldCommerce her.
---
Integrationspartner
If your support request is beyond our help, fell free to contact our integrationpartners. Please note that they may charge a fee for their time with support.
Disclaimer
*It should be noted that the use of the module is at your own risk. We provide only limited support for the use of it - please refer to external experts if you want support for your specific shop system.
---
Contact QuickPay Support
Need help?