MobilePay Online
Danske Bank has launched their product MobilePay Online so that it is now possible to accept MobilePay payments online in your webshop
The customer now has the option of choosing MobilePay as a payment method in the shop or payment window. So instead of typing in their creditcard number they can simply input their phone number, and a request will be sent to their phone where they can swipe to accept.
We have made a small video which shows the flow.
Setup
The webshop does not have to be customer at Danske Bank, but will need an agreement with Nets or Clearhaus. 
Next go to Settings > Acquirers > MobilePay Online in the QuickPay Manager and activate MobilePay Online.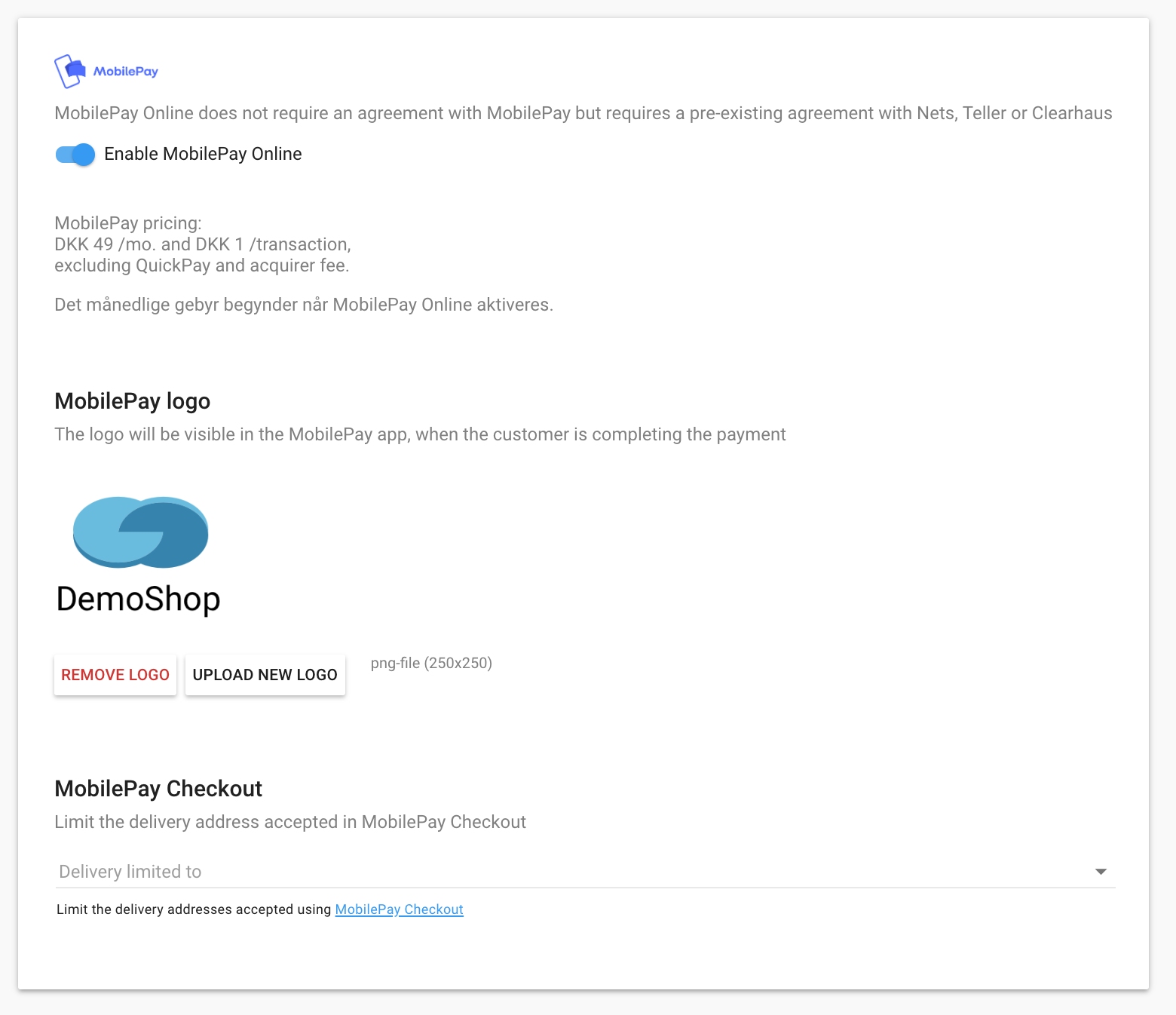 Example of MobilePay in payment methods
Next step is to activate MobilePay Online in your shop. The process can depend on your shop setup, but integrations which uses payment_methods, will only need to add mobilepay.
Example from WooCommerce.

If you use an integration with QuickPay, go to quickpay.net/integrations, find your integration, and check if it supports payment through MobilePay Online.
Please note that there is an additional fee for using MobilePay Online. See quickpay.net/pricing for more information.
And then you must add the fee for card transactions from the acquirer, and the transaction price from QuickPay.


Please note! - The monthly fee for MobilePay Online will begin the day you activate MobilePay Online in the manager.
Currency
MobilePay Online works with the following currencies:
Danish kroner(DKK)
Norwegian kroner(NOK)
Euro(EUR)
Which cards can you use with MobilePay Online?
Dankort(incl. VISA/Dankort)
VISA
VISA Electron/Debet
MasterCard
MasterCard debet
Maestro
Send your customers phone number to the payment window
If you wish to have your customers phone number pre-defined in the payment window, add the following to your call
<input

 

type=

"hidden"

 

name=

"invoice_address[mobile_number]"

 

value=

"12345678"

>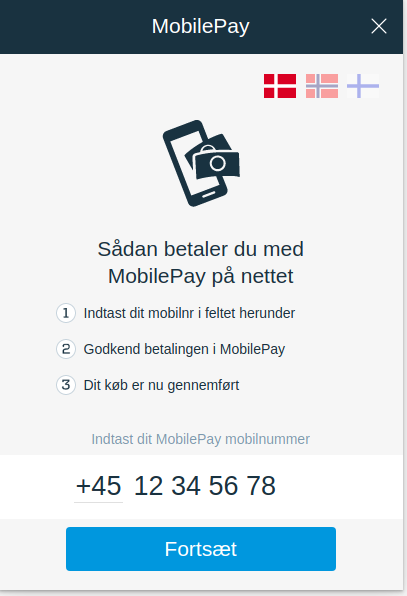 Mobilepay Online subscription payments
Subscription payments are not possible through MobilePay Online
We expect to support MobilePay Subscriptions during 2019.
MobilePay Online & 3-D Secure
If you are required by your acquirer to use 3-D Secure on all of your transactions, you may have some issues with accepting MobilePay Online. The solution to the issues depends on which acquirer you are using.
When using Clearhaus
If Clearhaus demands 3-D Secure on your transactions, they have given you are rule like:
reject authorization if not (some 3dsecure)
It needs to be expanded to something like:
strong authentication provided
In example the rule could state:
reject authorization if not (some 3dsecure or strong authentication provided)
You can see your Clearhaus-rules in the QuickPay manager under "Settings -> Acquirers -> Clearhaus -> See account info".
You need to contact Clearhaus directly to ask if they are willing to change your rules about MobilePay Online. We cannot change them for you. You can contact Clearhaus on mail at support@clearhaus.com - remember, to state your customer id with them in the email.
MobilePay Online & liability shift (Important!)
It is important, that you as a merchant are aware that with MobilePay Online, you do not get the liability shift (that is provided with 3-D Secure). This means that financial liability in case of fraud does NOT shift to the card issuer, but stays with the merchant. So you need to be aware and willing to take the risk.
MobilePay in Shopify
Would you like to accept MobilePay payments in your Shopify solution? Have a look at our MobilePay/Shopify guide
---
Contact QuickPay Support
Need help?